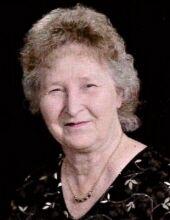 Reta Louise Tracy, age 76, of Mt. Vernon, Missouri, passed away at 5:45 a.m. on Thursday, March 26, 2020, at her home. She was born December 9, 1943, in Lockwood, Missouri, the daughter of Eldor Wilbert and Vera Lucille (Cummings) Piepenbrink.
Reta was a 1961 graduate of Golden City High School in Golden City, Missouri. She worked as a Licensed Practical Nurse at the Missouri Rehabilitation Center in Mt. Vernon and then was a seamstress for 40 plus years. She was a member of the Trinity Lutheran Church in Freistatt, Missouri.
On November 25, 1966, she married Larry Joe Tracy in Meinert, Missouri. He preceded her in death on September 25, 2009.
Reta is survived by her daughter, Lori Evatt and her husband, Ed, of Mt. Vernon; one son, Michael Tracy of Springfield, Missouri; three grandchildren, Asher McRoberts and Katherin McRoberts, of Springfield, Missouri and Vera McRoberts of Mt. Vernon; one brother, James Piepenbrink and his wife, Emma, of Golden City and several nieces and nephews.
Reta was preceded in death by her parents, Eldor and Vera, husband, Larry, daughter, Nancy McRoberts and brother, Gerald Piepenbrink.
A private family graveside under the direction of the Fossett-Mosher Funeral Home, in Mt. Vernon, will be held at 10:00 a.m. on Monday, March 30, 2020, at the Zion Lutheran Cemetery at Meinert, Missouri.
Memorial donations may be made payable to the First Christian Church or the Trinity Lutheran Church, in care of the funeral home.
Online condolences may be shared at this website.