DOUGLAS COUNTY, Kan. — A coal train derailed near Lawrence, Kansas on Friday shortly after 5 p.m. in dramatic fashion as seen from drone footage obtained CBS news.
Officials say there were no reported injuries but a large amount of coal did spill.
Now Wednesday we obtain more video from the initial crash from the Lawrence Kansas Police Department: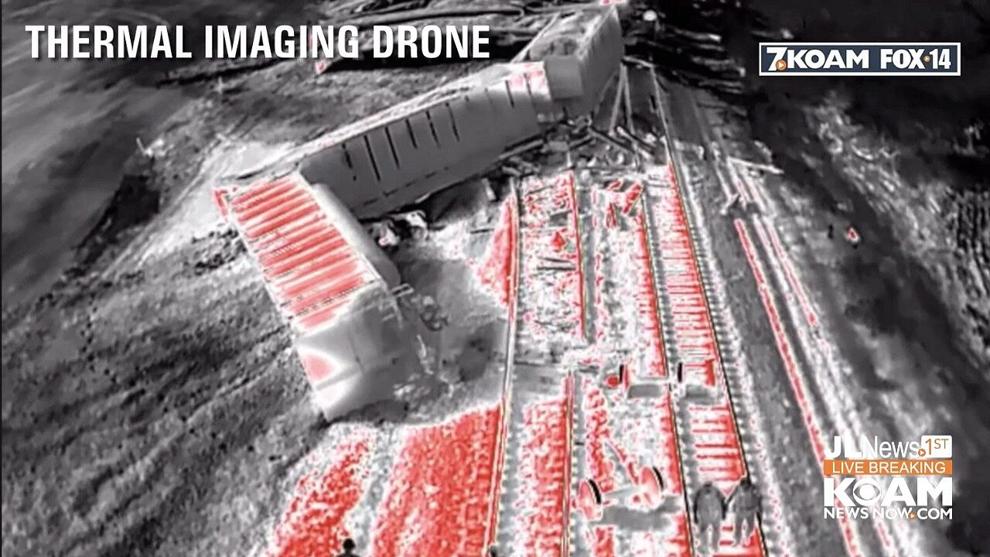 "Using infrared technology, LKPD's UAV team was able to assist the Douglas County Sheriff's Office's aerial team in determining there were no dangerous hot spots or fires in yesterday's massive train derailment. UAV pilots were also able to share a live link with Union Pacific personnel to help their teams coordinate a response and plan clean up strategies. FAA officials were very generous in helping to coordinate air space since this incident was so close to the Lawrence Airport. This valuable, and potentially life-saving, view would not have been possible without UAV technology. Thankfully, no serious injuries — but a BIG mess."
 

View this post on Instagram

 
The derailment occurred near the intersection of U.S. Highway 24-59 and North 1900 Road.
Deputies were notified about 5:10 p.m. Friday that a coal train derailed just north of North 1900 Road north of Lawrence, on the Union Pacific tracks.
"Approximately 20 cargo cars detached from the engine and derailed which caused significant damage to the rails and the railroad crossing at North 1900 Road. A large amount of coal spilled." — Douglas Co. Sheriff's office
Union Pacific staff arrived on the scene about 6:30 p.m. nearby Grant Township was contacted about setting up barricades to shut down North 1900 Road on the east and west side of the crossing.
Officials worked through the night continually into Saturday morning where operations continue. This will be a days-long clean up.
Stay with Joplin News First on KOAM News Now. Scroll below to sign up for JLNews1st email alerts so you don't miss an article.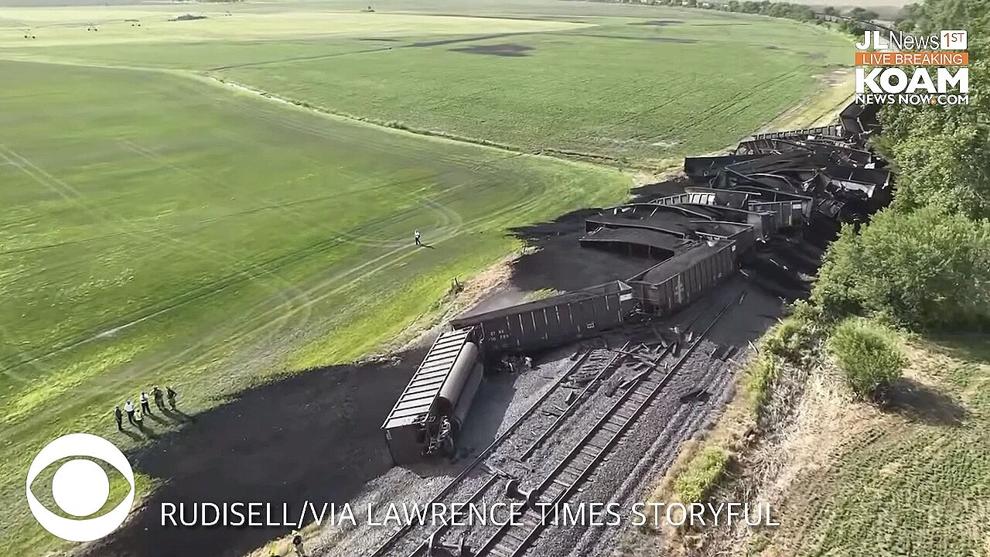 MORE JLNews1st:• Beaver Lake swim beach closures
BIT.ly/39xmt5k
• Kelsey Normal Neighborhood Milling & Overlay
BIT.ly/3y1Qjbv
• Car overturns near Seneca, Mo.
BIT.ly/3xsUzzq
• Yellowstone falling rocks
BIT.ly/3tHJVnv
• Carterville man using pool toy, drowns at Grand Falls
BIT.ly/3O3v0Mo
• 47 cats living in SUV with owner
BIT.ly/3aYqQql
FOLLOW OUR SOCIALS, SEE NEWS WHILE YOU SURF…
 

View this profile on Instagram